A short Talk with Alice Firenze, Soloist Vienna State Ballet, Feb.15th, 2018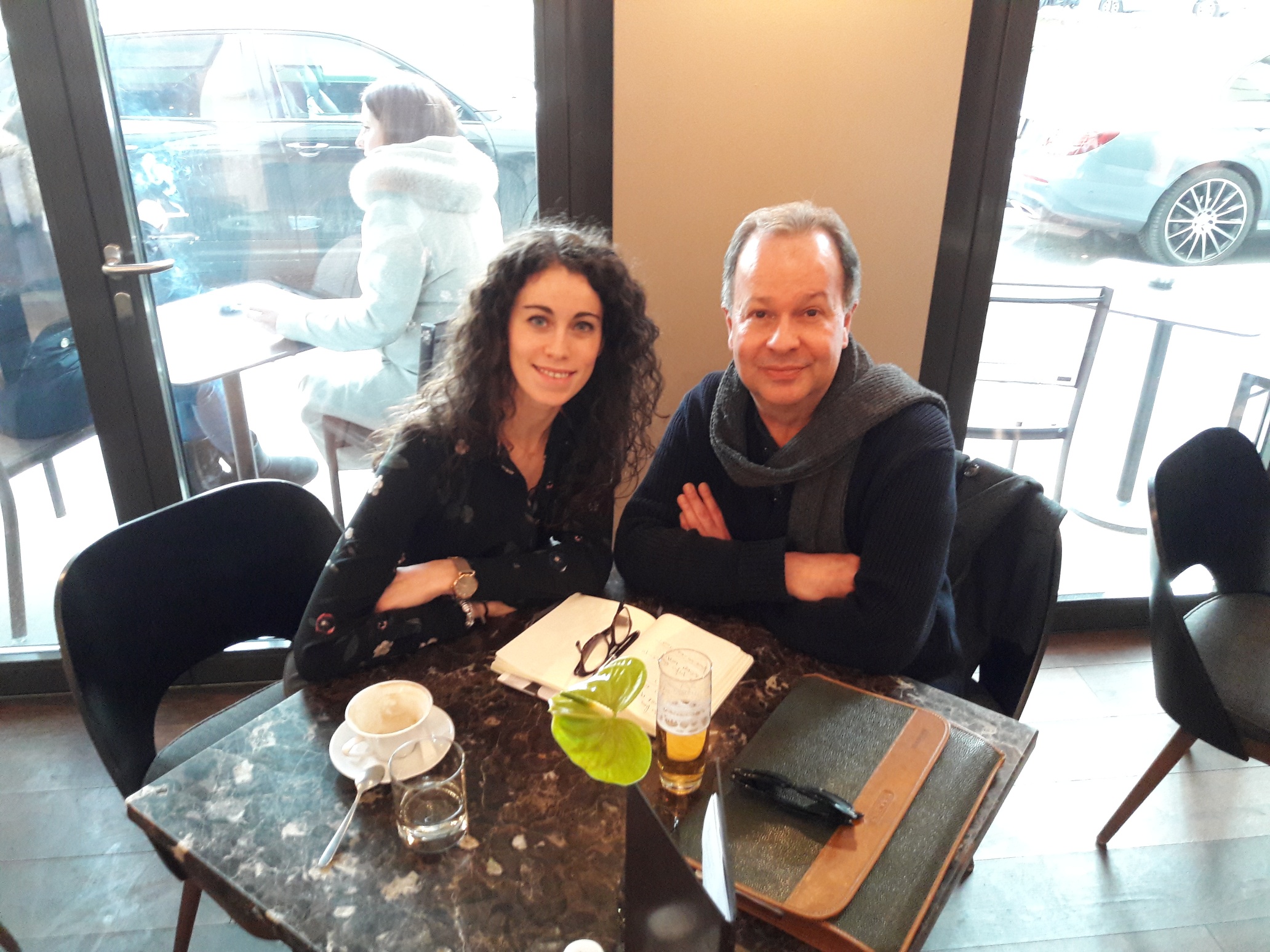 A short Talk with AliceFirenze Soloist Vienna State Ballet, Feb. 15th, 2018
It is a cold, dark afternoon but as soon as she enters the Café, there's a certain warmth and light in the air. Allice Firenze is one of those persons that can be – seriously – described as bright and vivacious. She can be fun and very serious at the same time, she can laugh about herself, criticize herself. Her versatility is not limited to the different roles that she plays on stage. You feel it in every phrase she says. She is interested. She questions. But one of her qualities that I most admire - and that is so important – is that when she talks to you, she is right there with you, listening, giving you her full attention and concentration as if the world "outside" would not exist. From the inside looking out - not the contrary...
After ordering some Espresso, she looked at me joyfully with those beautiful blue eyes that reveal so much as if saying "Come on, let's start". I got the message.
"Alice, we will talk about your versatility later, to start with, just tell me which roles are your preferred ones. I mean RIGHT NOW… Preferences change sometimes during the years and that is more than all right. Which are the "ones"? Either if you have danced them or not… "
She sort of looks down in a very introspect way and say slowly, as if watching in her mind a film of each role that she was going to mention: Mizzi Kaspar in McMillan's "Mayerling", definitely. It is technically challenging but most enjoyable. The wife in "Bluebeard's Secrets", most recently Solveig in "Peer Gynt" and András Lukács' "Movements to Stravinsky".
"And if you could make a secret wish to a "genius in a lamp". Which ones would pick?"
Without hesitating for a second, as if she had been playing with these thoughts for some time, she said in a very straight forward manner: "Juliet, especially in Cranko's version, Tatjana in "Onegin" and anything, yes ANYTHING by Ek Mats!" she says quickly and laughs… "You said I could make a wish!"
"And I sure did! I would love to see you in all of them! And, who knows? Perhaps I am the genius in the lamp!", I add!
We discussed further her versatility, her relation to classic and abstract , to more contemporary and modern works until I had to make a commentary about her repertoire "You see, I was afraid for a long type because you were being extremely typecast… always the fiery and ardent lover, always the gypsy, always the temptress, always a sort of Mizzi and Mitzi… I was glad you had not been born in times with Fanny Elßler: otherwise you would have got stuck with "Cachucha". I can imagine the headlines: La Firenze in "Cachucha". Don't you think?" At this point we started giggling uncontrollably and burst into laughter… I like people with a sense of humour! And Miss Firenze surely has one! "You have your dramatic, lyrical side. And this can not be ignored", I have to say.
But she soon added "Yes, but there are other roles now… and I love them, as I have already mentioned: Solveig, András Lukács' "Movements to Stravinsky", which in fact I am going to dance in the Gala during the Japan Tournèe!". A fact that makes me very happy, being a great fan of Mr. Lukács gentle relation to movement - and to the music!
"Oh, and that was going to be my next question... about your plans in the near future!" I said. "We are not going to have another Première until the end of this season but this Tournèe is something to look forward to: "Le Corsaire" and the Gala... and OF COURSE the Nureyev Gala end of June!"
I am really glad that András Lukács's piece is being brought to Japan - I love to it. It is full of emotion and it explores this delicate, fragile side of yours... " I said, materialising in words, concretizing, in fact, the thoughts that had just ocurred to me.
"No fiery gypsy anyway... ", she answered quickly with a loud laugh!
"No "Cachucha"!" I add and we both start giggling again like two children that just played a prank on somebody! I love that. You see, I am a natural giggler – and when it starts, well, it never ends...
Somehow we, once more, managed to get serious. And that was important at this precise moment. I wanted to ask the question about Miss Firenze that most intrigued me...
"Alice, tell us please about your creative process or processes... you have such a vast repertoire of roles... but let us know before if you prefer to dance "roles" or "abstract ballets"... "
"I definitely prefer, roles!" she answers without even breathing. "my creative process" she continues " is quite a complex one. I read the book, the story, the play upon my role is based upon – this helps me so to analize the character, understand her motives, personality, wishes, whatever... then, having reached a sort of understanding for the character I'll be playing, I start slowly to work on the technical side – but never forgetting the character, her moods, her ways, her "whys and becauses". I surely also watch videos – very carefully and I try to talk to other dancers which have played this specific role to get their opinions, tips. Everyone feels a role differently... and it is the perfect symbiose: the role and yourself" she finishes. But she soon adds something that could not be left out of this conversation: "I feel like there's a voice saying "be an actress", you see?"
And her tone of voice made me remember the song "Be Italian" from the 1982 Tommy Tune musical "Nine". A coincidence? No, they do not exist.
We talked for three delightful hours, giggled, laughed, were very earnest and as we parted I had that (good) feeling that somehow this talk had enriched me more about my understanding of this special dancer that, at the same time, can be so profound in her dancing, in her understanding of it and can laugh about facts and life... When you are with her, you distinctly feel "Happiness in the air".
Thank you, Miss Firenze! Yes, the world is too full of people that take themselves too seriously. Thank you for this lovely afternoon!