A short talk with Géraud Wielick - Demi-Soloist Vienna State Ballet: Sep. 8th, 2017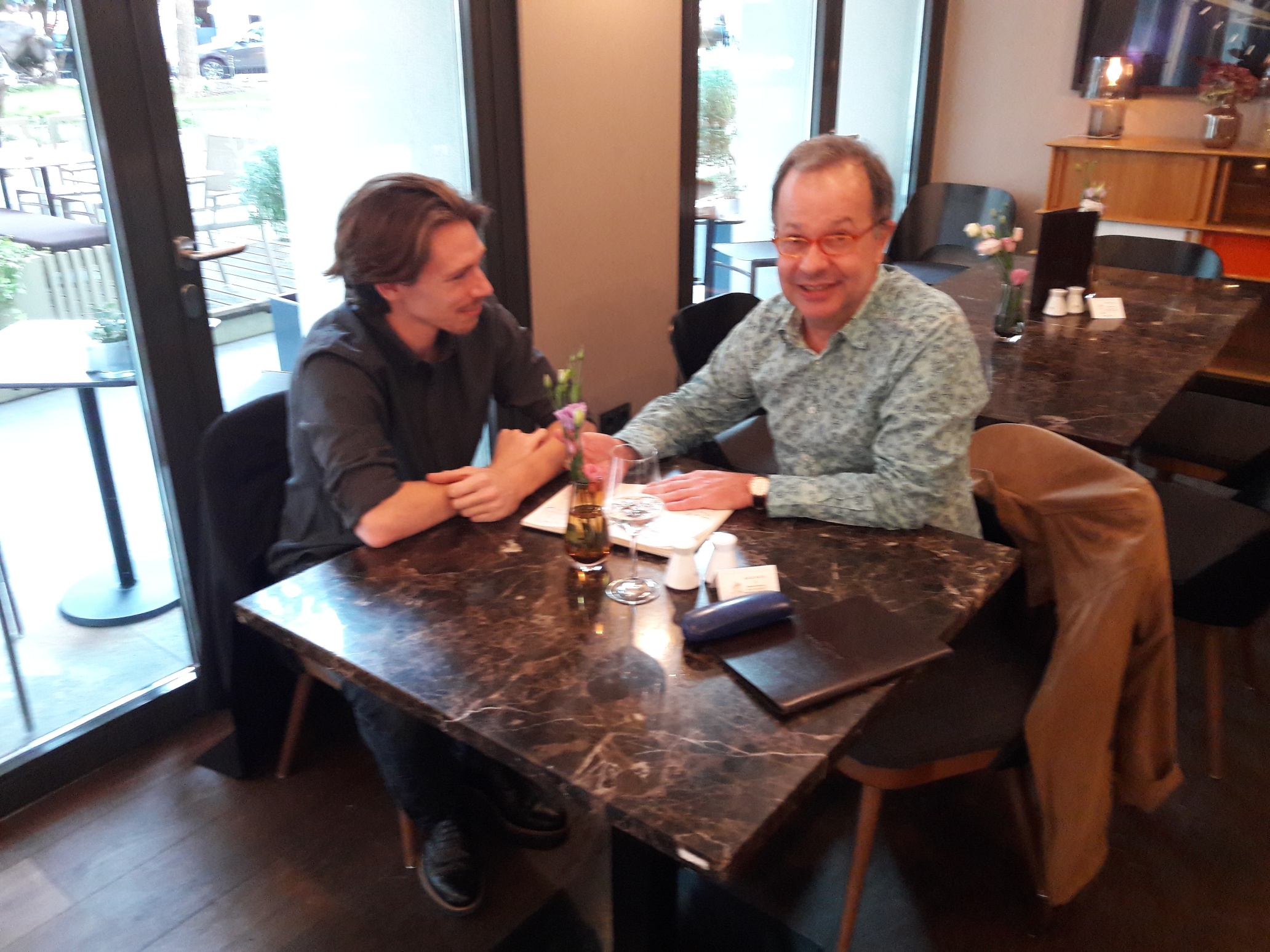 A short talk with Géraud Wielick - Sep. 8th, 2017
He has a kind of "naughtiness" round him that makes me think of the old "Andy Hardy" pictures: an artist, responsible, serious, talented but still young in his soul, simply naughty. Mickey Rooney, who played "Andy" remained young, somehow, until the last day of his life: joking, loving and being lovable. I don't think it'll be different for Mr. Wielick.
He arrives just after rehearsal and orders some coffee. I was enjoying this marvelous tomato juice, all prepared with lots of Tabasco. But it began to get windy and we moved inside. Yes, autumn is in the air…
Entering the Café/Brasserie, surprise! Who do you think we met? Dear Davide Dato. That was a pleasant surprise. We talked a little about him, his recovery after the accident on stage last June while performing "Stars and Stripes" and then he left for therapy.
This talented young man of 26, originally from Liège, had his Ballet upbringing in Belgium and then later in San Francisco before joining the company of the Vienna State Ballet in 2012.
I was more than curious about the tour in Japan with the "Manuel Legris Gala": how was it? How was the feeling to be on stage with such "Stars" as with Manuel Legris himself, Marianela Nuñez, Vadim Muntagirov, Isabelle Guerin-Frohlich, Olga Smirnova, Semyon Chudin, Patrick de Bana, Helena Martin and Rikako Shibamoto as well as Vienna State Ballet's colleagues Jakob Feyferlk, Natascha Mair, Nina Polakova, Denys Chrerevychko, Nikisha Fogo, James Stephens and Nina Tonoli?
Géraud, a man of very precise words just answered: "Oh it went really well – but we were tired, very tired. Sometimes we danced in the morning in one city, flew to another, in order to appear in the evening there"
"There were two programmes, quite strenuous in fact. But it was SUCH an inspiring experience to share the stage with such artists like those!"
To my question if it was frightening to share the stage with them, he answered quite shortly, but very humbly: "I never have stage fright". "Humilité": it has not come out fashion in Belgium yet... I like that.
To my simple question about HOW he creates his roles, how he develops them, his answer could not have been more "down to earth": "There's no telling really… it depends on the role… Every day is different, a new experience and my creative process changes from day to day. Sometimes I simply brush the theatricality and the character aside and just work on the technical aspects. On other days it is exactly the contrary. It is quite balanced!" and he added "And I never compare myself to other dancers… For me it is more about "researching" the role, also within me!"
And just for the record: nearly two months after interviewing Mr. Wielick, I had the pleasure to interview Mr. Patrick de Bana, who told me very proudly that Géraud Wielick had a HUGE success in Japan during the Tournèe with the Legris Gala while performing " ...inside the Labyrinth of Solitude" - a piece that was choreographed for Ivan Vassiliev!